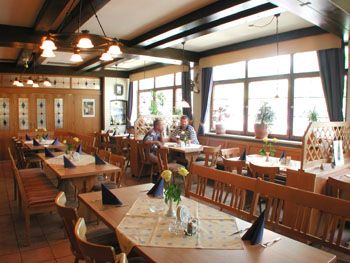 Restaurant
We will be offering our take-away dishes!
Orders from Monday to Sunday
at 08105-2700.
-------------
Number of seats: 340 inside, 100 outside in the beer garden. Car park around the hotel.
Plan a larger celebration?
In our hall can accommodate up to 150 people. Our kitchen offers a wide range of international dishes.
At weekends we offer discounted accommodations! Ask us!
Tel: +49 (0) 8105-270-0
Opening hours:
Mon.-Sat. 11 a.m. - 2.30 p.m. and 6 p.m. - 10 p.m.,
So. u. Holidays 10 a.m. to 3 p.m.

Open 365 days a year!
Lunch:
Mon - Sat. 11.30 a.m. - 1.45 p.m.
Diner:
Mon - Sat. 6 p.m. - 8.30 p.m.
Son and public holidays:
11.30 a.m. - 2 p.m., 3 p.m. closed